TOOLS AND EQUIPMENT SALES
Global Bolting Technologies offers a wide variety of new tools and equipment from world-leading manufacturers such as TorsionX®, alkitronic®, Snap-on® Industrial, PowerTeam®, Grey Pneumatic®, RAD® Torque Systems, ENERPAC®, AirCat®, Norco®, Simplex®, BVA®, and more.
---
MaxDrv – Square Drive Series Hydraulic Torque Wrench
MaxDrv – Square Drive Torque Wrenches from TorsionX take on the toughest bolting jobs without missing a beat. They deliver precision torque during bolt makeup and maximum torque during bolt breakout.
HexPro – Low Profile Hydraulic Torque Wrench
The versatile HexPro™ Series Hydraulic Torque Wrench from TorsionX supports an extensive range of interchangeable hexagon ratchet links that deliver a torque range of 150 ft-lbs. to 30,000 ft-lbs. They deliver precision torque during bolt makeup and maximum torque during bolt breakout.
Torque Wrench Power Packs
Powerful and reliable when your job demands it. GBT offers a full line of torque pumps and associated equipment available for sale, or rent from leading manufacturers like TorsionX and Power Team. All power packs are 10,000 PSI, and are available in electric/hydraulic or pneumatic/hydraulic operation.
RAD Torque System Tools
RAD Pneumatic, E-RAD BLU, B-RAD, and V-RAD electric series tools deliver the power you need when and where you need it with versatile power options from pneumatic to battery-powered.
Flange Spreaders
GBT offers flange spreaders for use in a wide range of industries including petrochemical, refining, pipeline, power generating, as well as emergency rescue. The tool is available in two sizes which are extremely easy to use, durable, and capable of delivering an incredible amount of force. Simply insert the toes and turn the ratchet handle.
Flange Alignment Pins
FLANGE ALIGNING TOOLS are a safe, fast, and effective solution for even the toughest flange alignment jobs. The tool's tapered shaft is a feature that eliminates the need for hammering and prying when lining up flange bolt holes.
Flange Aligning Tools are sold individually and in sets.
HAMMERTIGHT™ Wrench Retainer
HAMMERTIGHT™ wrench retainers are safe and easy-to-use tools designed to hold a striking wrench (also called a slugging or hammer wrench) on a nut for a safer, hands free, one man operation. The HAMMERTIGHT tool simply threads onto the stud. A spring loaded plate enables the wrench to be repositioned on the nut without removing the retainer.
HAMMERTIGHT wrench retainers are sold individually and in sets.
Grey Pneumatic Sockets
GBT is a distributor for Grey Pneumatic (GP), who supplies the world's automotive, industrial, assembly, mining, maintenance, construction, and energy industries with heavy duty, high quality, impact and specialty sockets. We carry a complete line of impact socket sets as well as individual sockets from 1/4" - 2-1/2" and #5 spline drive with hex sizes up to 8". We also offer a large selection of star impact drivers, impact hex drivers, triple square drivers, and torque limiting sockets.
 Manual Torque Wrenches
GBT is proud to offer CDI and Wright torque wrenches in a wide range of drives sizes and torque specs. Whether it's precision in/lb or heavy duty 1000 ft/lb tools you need, we have the quality tools you need.
 Enerpac Hydraulic Cylinders, Jacks, Lifting Products and Systems
Enerpac provides the largest selection of cylinders and lifting systems, fully supported and available through the most extensive network of distributors worldwide. We have a solution for virtually any application – lifting, pushing, pulling, bending or holding – in most industrial and commercial work environments. Enerpac offers hundreds of different configurations of mechanical and hydraulic cylinders and lifting systems, plus products ranging from hydraulic jacks for portability and tight fits, to engineered systems for precise control over multiple lift points.
NORCO Floor Jacks
Available in a wide assortment of ranges from 2 ton to 55 ton capacity floor jacks, NORCO sets the standard for quality floor jacks, bottle jacks, transmission jacks, brake drum handlers and more.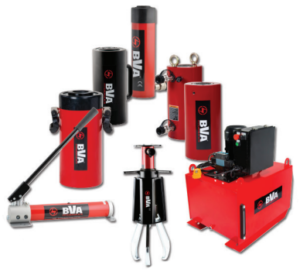 BVA Hydraulics
BVA has become a solutions provider to the global industrial hydraulics market with dependable and reliable performance all backed up by one of the industry's best warranties.
---
Not Finding What You're Looking For?
Let us know and we'll find it for you!